Editorial Board
June 28, 2020
Sze Chai has accepted an invitation to join the Editorial Board of the journal Cognitive Processing (Springer).
---
Young IBRO Regions Connecting Award
June 28, 2020
Sze Chai has been selected for a Young IBRO Regions Connecting Award, with co-applicant Eduardo A. Garza-Villarreal of Universidad Nacional Autónoma de México.
---
Academic Seminar Guest in Zhejiang University
June 5, 2020
Sze Chai Kwok was invited by Dr. Shaomin Zhang, who worked as a professor in Institute of Brian-machine Interface of Zhejiang University, to give a talk on our recent works.
More details' in the poster below.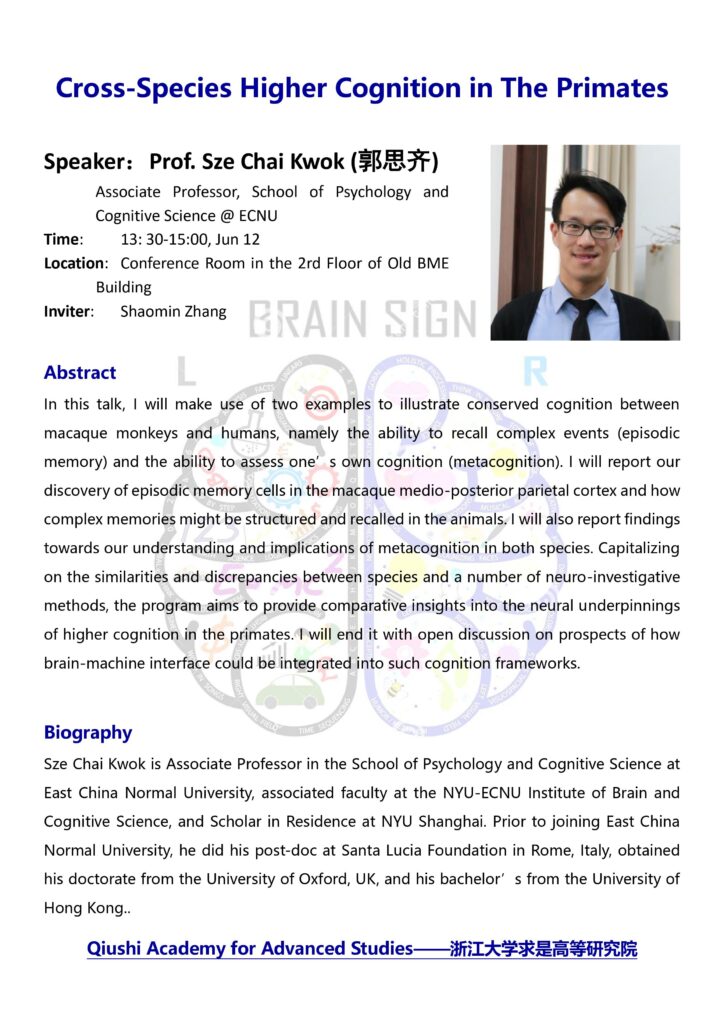 ---
Lei Wang's Talk in Neuromatch 2.0
June 5, 2020
Lei Wang's submission was selected as short talk in Neuromatch 2.0. He presented his latest work on how precuneual neurons code for content and temporal information in the macaques.
(Link: https://www.crowdcast.io/e/neuromatch2/37, starting at 13'00")
---
NYU Shanghai News about Our New Paper
May 21, 2020
New York University Shanghai (NYU Shanghai) published the news about our new paper as the title: New study finds evidence for memory replay phenomenon in macaque monkeys on their homepage.
---
Campus News about Our New Paper
May 8, 2020
Our university, East China Normal University(ECNU), released the news about our new paper: Behavioral evidence for memory replay of video episodes in the macaque on WeChat official account. For the whole news, see here.
---
Review Editor
April 15, 2020
Sze Chai Kwok accepted invitation to serve as Review Editor for Frontiers in Human Neuroscience.
---
New Open Research Fund
March 22, 2020
We are granted a new Open Research Fund by the State Key Laboratory of Cognitive Neuroscience and Learning (Beijing Normal University) to study metacognition with Xiaohong Wan as host investigator at BNU.
---
New Preprint out on BioRxiv
February 18, 2020
Our group member, Yunxuan Zheng, just published his new preprint article, Diffusion property and functional connectivity of superior longitudinal fasciculus underpin human metacognition, on BioRxiv.
---
Lab visit to Beijing Normal University and Peking University
December 7, 2019
Our group made a whirlwind trip to BNU and PKU on 5th-6th December 2019, and over a 2-day window, participated in three joint group meetings with Professor Liang Luo's lab (BNU), Professor Xiaohong Wan's lab (BNU), and Professor Yuji Naya's lab (PKU). Over 8 presentations and discussions, we have covered an array of topics ranging from cognitive and neural components of metacognition, associative nature of MTL neurons, to the importance and hands-on wisdom in running a sustainable NHP lab. We also had the privilege in paying visits to the nonhuman primate facilities on both campuses.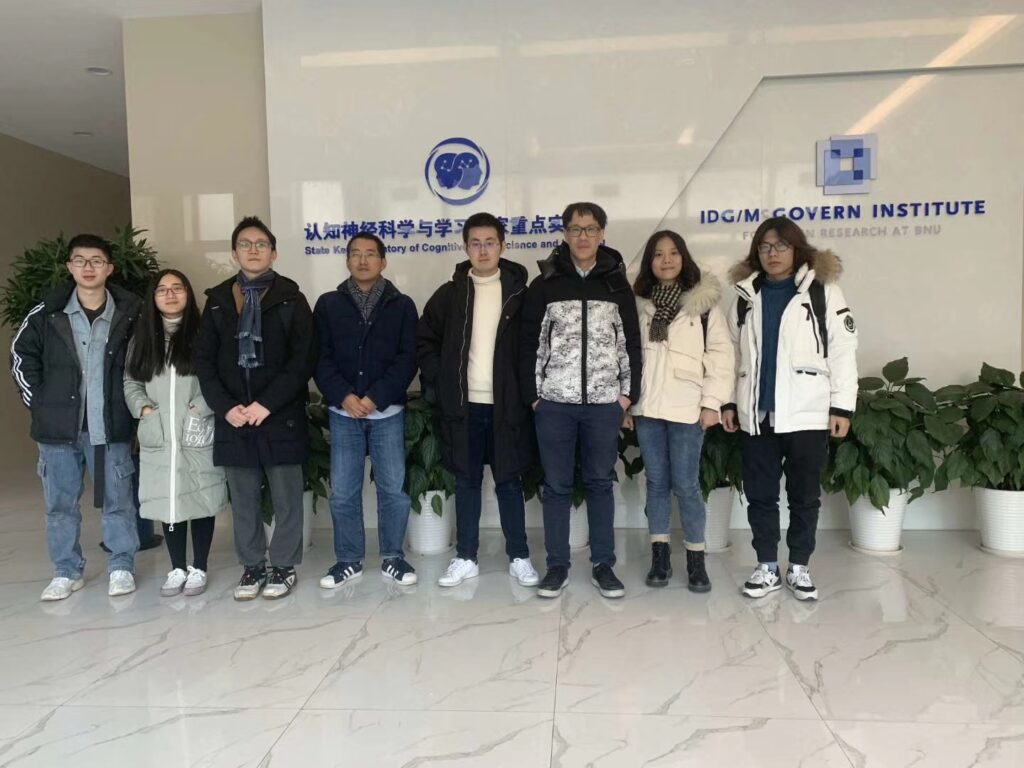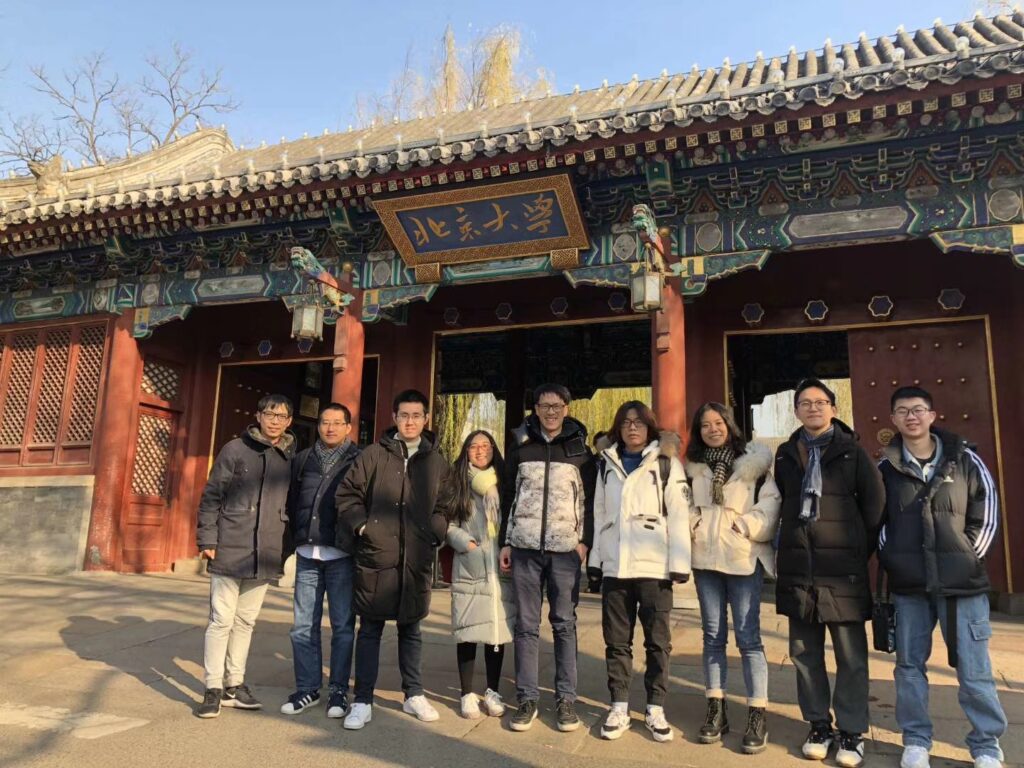 ---
Two presentations at the 42nd Annual Meeting of the Japan Neuroscience Society 
July 24, 2019
Lei Wang and Shuzhen Zuo will each give an oral presentation in NEURO2019 to be held from July 25th to 28th in Niigata, Japan.
Their abstracts can be found here and here.
---
NYU-ECNU Neuro Institute Retreat in Qiandao Lake
July 14, 2019
We are giving four poster presentations at the NYU-ECNU Neuro Institute Retreat in Qiandao Lake, China on 15-16 July 2019. Lei Wang will speak on his ephys data on putative memory traces in the posteromedial parietal cortices; Yudain Cai will speak on his probability distribution modelling work on task preparation time in macaques; Futing Zou will present her latest data on the role of angular gyrus in giving rise to a sense of vividness during memory retrieval, and Xinming Xu will present his work on how the precuneus is implicated during chronological order judgement. Their respective posters can be found here: [Wang et al., Cai et al., Zou et al., and Xu et al.].
Sze Chai will chair one of the sessions and will give a talk on the neurophysiology of hippocampus-independent memories and temporal-order judgement in the macaque posterior parietal cortex on 15th July 2019.
---
Minisymposium on systems neuroscience: from patients to fundamentals
May 14, 2019
Minisymposium on systems neuroscience: from patients to fundamentals, featuring Andy C. H. Lee, Parashkev Nachev, Yingying Tang, Alicia Izquierdo, Edmund T. Rolls and Christian G Specht.
For details, see link.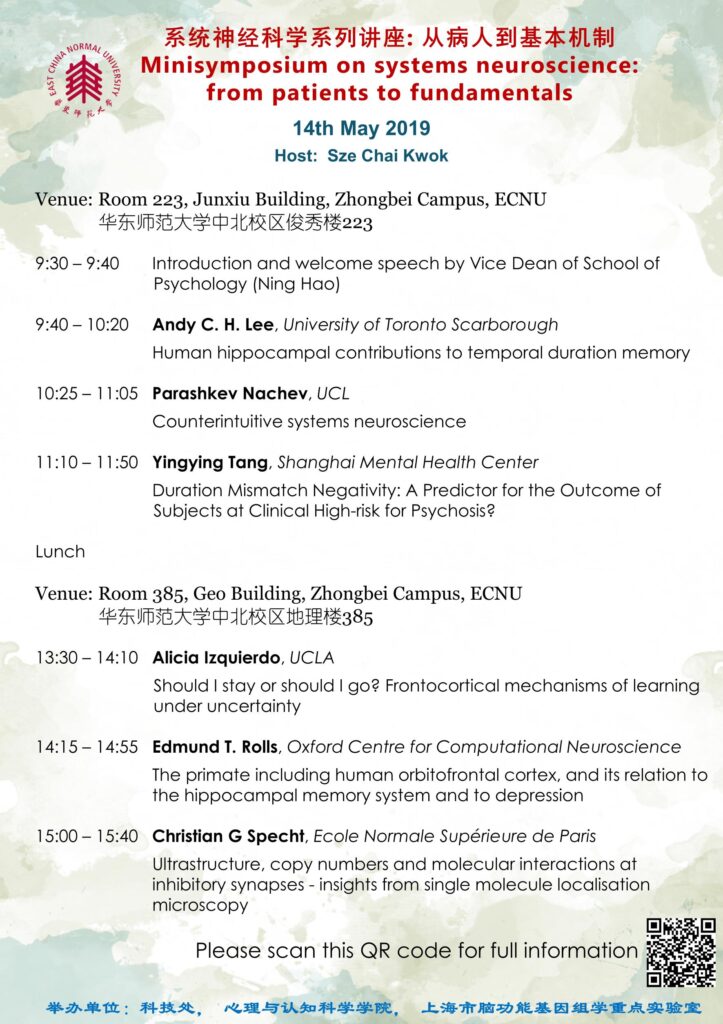 ---
Our presence at CNS 2019
Two of our lab members are going to present at this year's Cognitive Neuroscience Society (CNS) Annual Meeting in San Francisco.
Qun Ye is going to present Task-independent abstraction of episodic context in parietal cortices.
Xinming Xu will talk about Reconstructing real-life event sequences with schema-based knowledge.